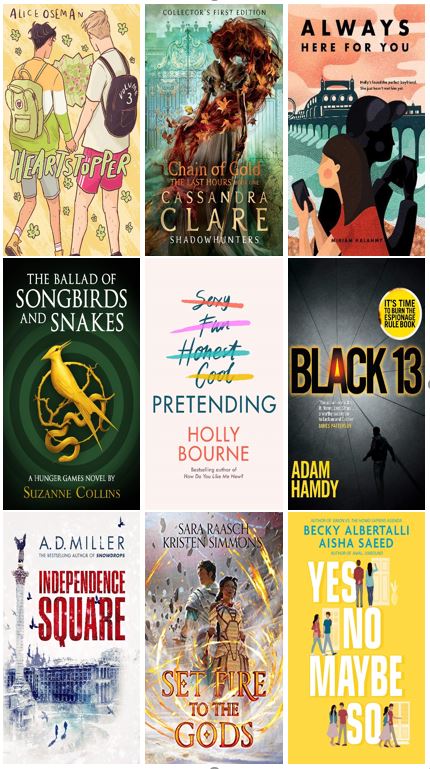 12 February 2020
The best things in life come in threes, and what could be better than a New Blog, in a New Year looking forward to some of the great New Titles that 2020 is promising us. So here are some of the most hotly anticipated books from our team of book bloggers.
Black 13 by Scott Pearce
In a world where radicalism is rising, governments are failing and politicians are pawns, someone needs to save the day. That someone is Scott Pearce.
He's ex MI6 and in exile, all he has to do is forget everything he's ever known about spying and burn the espionage rule book to ashes. And save the world - That's the difficult bit.
Alex Rider fans, look no further.
Released 23rd January
Heartstopper Volume 3 by Alice Oseman

In this latest story in the Heartstopper Series, Charlie and Nick are living their relationship fully in the open. Surely this is everything they ever wanted? But this is just the beginning, relationships need to be worked at and things are not always easy, especially with other people's expectations to live up to.
The first 2 volumes of this LGBTQ+ graphic novel have been hugely popular and flown of the LRC shelves. We have no doubt Heartstopper 3, will not to stop on the shelf for long.
Released 3rd February
Yes No Maybe So by Becky Albertalli and Aisha Saeed
Childhood friends reconnecting and slowly falling for each other – what more could you want?
An upcoming political election and bonding over canvassing is perhaps not the most typical of romances, but this is not a typical book. Follow the stories of Jamie and Maya as they reluctantly spend their summer in the sweltering Atlanta heat and get swept up in love and politics.
Fans of Simon vs. the Homo Sapiens Agenda will not want to miss this.
Released 4th February
Independence Square by A. D. Miller
Simon was a senior British diplomat in Kiev. But after a disgraceful scandal, he loses everything…
When confronted by his ubiquitous nemesis Olesya, he finds himself plunged into days of inescapable darkness. His life has changed drastically since he met her on a winter's night during the protests of the Orange revolution in the Ukraine from 2004-2005.
This book by A.D. Miller combines the thrill of personal betrayal and 21st century political corruption. Perfect for lovers of political history and above all for those who are inspired by the attempts of others to create a fairer society.
Released 4th February 2020
Always Here For You by Miriam Halahmy
14-year-old Holly is lonely. Her parents are never around and her best friend Amy has moved to Canada. Holly has no-one to hang out with at school people barely notice her. Holly is at rock bottom. That is, until she finds Jay.
Caring, funny and with so much in common, Jay is the perfect guy. They chat online, but Holly knows to be careful, she's heard the horror stories. As they grow closer and closer, chatting with Jay is all that makes Holly happy. As Holly lets her guard down, is Jay all he seems? Is Holly in too deep? And is it too late?
Always Here For You is an unforgettable novel that explores both the dark and light sides of making friends on the Internet.
A must read for Holly Bourne fans.
Released 11th February
The Last Hours Chain of Gold by Cassandra Clare
From New York Times bestselling author Cassandra Clare comes the first novel in a brand new Shadow Hunters trilogy.
In her new series Clare follows the children of beloved characters Will and Tessa Herondale. Set in Edwardian London you will also meet the Blackthorn and Carstairs families which fans will recognize from the Dark Artifices and Mortal Instruments series. Perfect for those who love fantasy worlds, romance and adventure as well as for those who already love Cassandra's work.
Released 3rd March
Pretending by Holly Bourne
Why be yourself when you could be perfect?

April is kind, pretty, and relatively normal - yet she can't seem to get past date five. If only April could be more like Gretel.

The problem is, Gretel isn't real. And April is now claiming to be her.

As soon as April starts 'being' Gretel, dating becomes much more fun - especially once she reels in the unsuspecting Joshua.

Finally, April is the one in control, but can she control her own feelings? And as she and Joshua grow closer, how long will she be able to keep pretending?
Why be perfect when you could be yourself?
Holly Bourne fans are not going to be disappointed with this latest title.
Released 2nd April
Ballad Of Songbirds And Snakes by Suzanne Collins
We all know the story of Katniss and her infamous volunteering at the 74th Hunger Games. We know her story – her struggles, her triumphs. What we don't know is much about the world she lives in.
This prequel is set 64 years before Katniss came into the picture. Welcome to the 10th Hunger Games.
The book will go into the history of Panem with a slightly less biased view than Effie Trinket, and hopefully we'll be able to see exactly what went on in the days of the rebellion we've heard so much about.
Released 19th May
Set Fire to the Gods by Sara Raasch

Ash, a professional fire Gladiator with revenge on her mind.
Madoc, a secretive street fighter with an untapped gift, helping his family survive.

When Madoc is thrown into Ash's path, she realizes that his powers are the weapon her rebellion needs—but Madoc won't jeopardize his family, regardless of how intrigued he is by the beautiful warrior.

But when the gods force Madoc's hand, he and Ash uncover an ancient war that will threaten more than one immortal—it will unravel the world.

A new series by Sara Raasch. Perfect for fans of Percy Jackson and Arena 13 with plenty of fantasy adventure and a hint of romance in a dystopian society.
Released 20th August
Recommendations by:
Elizabeth
Isabel
Thea
Mrs Kirk