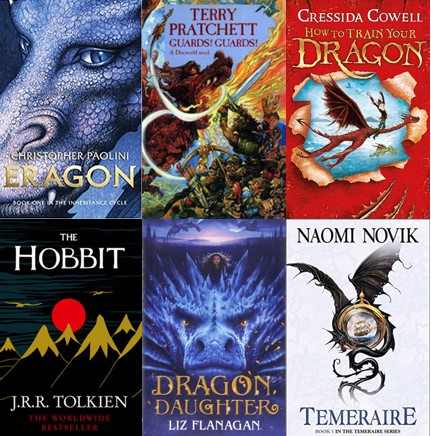 24 March 2020
Love a good dragon story? Here are six of the best to get your talons into.
Eragon
Christoper Paolini
When a young boy named Eragon finds a dragon egg, he has no idea how much his life is about to change. Now, pursued by servants of Galbatorix, the evil king of the empire, he must journey across Alagaësia and join the rebellion with his dragon Saphira. Along the way, he meets a unique collection of characters such as Angela the witch and Arya, an elf.
Guards!Guards!
Terry Pratchett
This is the first discworld novel about The Watch. When adopted dwarf, Corporal Carrot, realises his dream of joining the City Watch, he is in for a surprise. This dysfunctional has-been police force is led by the drunk Captain Vimes and with the Thieves Guild and a dragon running around the city, this six-foot dwarf will have a lot to get used to. A hysterical story that just goes to prove that size isn't everything.
How To Train Your Dragon
Cressida Cowell
The books that inspired the hit film series. Meet Hiccup, an uninspiring Viking, who just happens to be the son of the chief of Berk. Hiccup does not think he is born to be the hero everyone expects him to be. But when a small, green and deeply irritating common or garden dragon tumbles into his life and causes a whole heap of trouble, Hiccup finds that maybe he is a hero after all.
The Hobbit
JRR Tolkein
One of the most famous dragon books ever. Join Bilbo Baggins, a small respectable hobbit, on his rather sudden adventure. With 12 dwarves and the wizard Gandalf he sets off to help reclaim Erebor, the historic home of the dwarves that was attacked by the dragon Smaug. But an ancient, murderous dragon and an old enemy rising again will not make this an easy journey for any of them.
Dragon Daughter
Liz Flanagan
Fans of Paolini and Riordan will love this new dragon series by Liz Flanagan. When Milla sees a man murdered she suddenly finds herself looking after the last four dragon eggs. She must keep them secret on the Island of Arcosi where she lives. Growing tensions mean she has to fight to save the dragons and what they stand for as well as for freedom.
Temeraire
Naomi Novik
Dragons are cool. The Napoleonic wars, not so much. However, when you mix the two, you get one huge book of awesomeness. This is Temeraire. Temeraire is also a dragon who, like all dragons in this world, is perfectly capable of human speech and is not afraid to show it. He gets given to a handler - Will Laurence - and the rest is history. Quite literally!
By Isabel and Thea