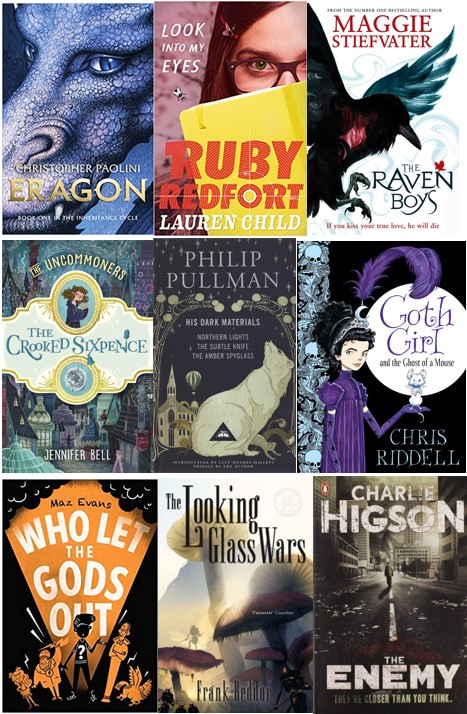 23 April 2020
If there is one upside to us all being in lockdown it's that there is there is plenty of time to read! So why not find yourself a really good series to devote yourself to? We have plenty of suggestions for you to try, some that you may never have heard of before. We hope you enjoy them and stay safely at home.
Inheritance
By Christopher Paolini
When Eragon finds a large sapphire stone in the middle of the mysterious mountains known as The Spine, the last thing he expects is for it to hatch into a dragon. Forced to flee from his home Eragon and his dragon travel across the empire on a mission of revenge against the Raz'ac, agents of the murderous king Galbotorix, who destroyed all the other dragon riders over 100 years before. While on this journey he joins the rebel group known as the Varden and navigates the politics of the three races: Elves, Dwarves and Humans.
With impressive battles and plenty of magic fans of Tolkien and Rowling will love this series.
Ruby Redfort
By Lauren Child
Ruby leads a rather extraordinary life in Twinford (a fictional town in America). She is a teenage genius with a love of codes that gets her noticed by the surveillance company, Spectrum. She is the youngest spy since the great Bradley Baker who was Spectrum's greatest spy and whose death is deeply suspicious. Spectrum aren't the only people that notice her however, and during the six books she meets a whole host of deadly, dangerous characters.
Fans of Alex Rider and Artemis Fowl will love these books about a teenage genius, codebreaking spy.
His Dark Materials
By Phillp Pullman
Now a major BBC tv series, the tale of Lyra and her deamon Pantalimon has enchanted readers for decades. The story of a young girl growing up and travelling through different worlds has many important messages and themes as well as morally ambiguous and dubious characters which allow for plenty of twists throughout the books. It draws many unsettling parallels with our own society whilst creating its own fantastical settings.
If you love fantasy you can't fail to love Pullman's in-depth tale.
Goth Girl
By Chris Riddell
Do you like big old houses with lots of chimneys? How about fencing with umbrellas and gothic clothing? Well meet Ada Goth, the daughter of Lord Goth of Ghastly-Gorm hall. Join Ada as she explores her home, forms friendships and meets a whole host of cleverly created characters.
Goth Girl is full of Riddell's witty writing style and intricate illustrations which will entertain readers of all ages.
The Ucommoners
By Jennifer Bell
When Ivy and Seb Sparrow's Grandma is seriously injured on the anniversary of the day she lost her memories, the siblings find themselves thrown into the magical trading city of Lundinor. They are accompanied by a mysterious boy Valian, whose parents have been killed by an evil organisation called the Durge. An organisation supposedly destroyed the very day Grandma lost her memories.
Lundinor is an exhilarating, fantastical and fascinating city filled with eccentric characters.
Who Let the Gods Out
By Maz Evans
This four-book series is a hilarious comic take on Greek mythology in the present-day genre. Elliot is having the worst day ever and then he accidentally releases Thanatos, a wicked death daemon imprisoned beneath Stonehenge. He must turn to the old Olympian gods for help. After centuries of cushy retirement on earth, are Zeus and his crew up to the task of saving the world - and solving Elliot's problems too?

With a cast of hilarious deities this is a must read for fans of the Percy Jackson series and suitable from Year 6 up.
The Raven Boys
By Maggie Stiefvater
Blue is told that her true love will die if she kisses him; but she has no intention of getting involved with boys and definitely not the ones from the local private school who are commonly known as the Raven Boys.
However, this year everything changes, and she finds herself drawn into the mysterious and ominous world of the Raven Boys. This is the year she discovers magic; this is the year she falls in love. Join the search for Owain Glyndwr, the Raven king and the boys desperately trying to find him.
If you're a Cassandra Clare fan, then this is the series for you.
The Looking Glass Wars
By Frank Beddor
How well do you think you know Alice in wonderland? Think again, in this retelling of Lewis Carroll's classic novel, Alice's or should that be Alyss' story is turned on its head.
When Alyss' parents are murdered by her Aunt Redd, she is forced to flee her home in the Queedom of wonderland and ends up in the Victorian era of our world. Years pass and has the resistance to Queen Redd grows Alyss is drawn back to her childhood world of Wonderland to join the resistance.
A dark reimagining for an all time classic.
The Enemy
By Charlie Higson
Looking for a zombie apocalypse? The look no further than Charlie Higson's Enemy Series

Only the adults are affected: crazed, confused and hungry. Children under fourteen remain, fighting to survive. Now there are rumours of a safe place to hide. And so, a gang of children begin their quest across London. But can they make it there - alive? All through the city - down alleyways, in deserted houses, underground - the grown-ups lie in wait.

This 7-book series follows the individuals fighting not only for their lives but to save the world and there are many unforeseen twist on the way.
By Isabel and Thea