The History Models Exhibition, 2000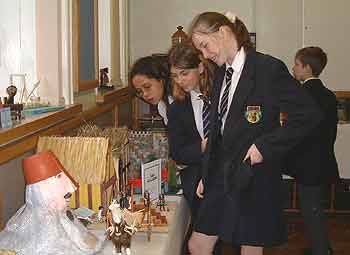 Each year all Year Seven pupils have to make a History Model. The model has to be based on the work they have covered during the year. In Year Seven all pupils study two National Curriculum topics. These are the Roman Empire and Medieval Realms.
During the spring term, pupils are given information and ideas about what they can make. They then set to work at home transforming their ideas into reality. Often making the model becomes a family project. One example of this is the family who visited Southern France to view the remains of a Roman aqueduct to ensure accuracy!
Pupils make their models at home in their own time, although some homework time is allowed close to the time of the exhibition. The exhibition is held in the first week in July.
The exhibition is a tradition of the school. No one can quite remember when it was first held but it has been in existence at least thirty years. Over the years the history teachers have seen many fine examples of Roman villas, Colosseums, aqueducts, motte and bailey castles, stone keeps, peasant houses and battering rams. This year was no exception. Once again the pupils of Year seven produced excellent models as the photographs show. Many parents, pupils and friends visited the exhibition before it had to be dismantled to allow the classrooms to be used again for teaching. However, a small reminder of the exhibition is on permanent display in the main entrance to the school.
The History Models Exhibition, 2000