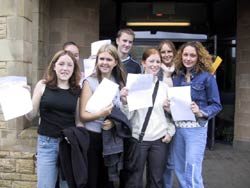 The school is celebrating the second best A-level results on record.
The 180 students passed 601 exams out of 638 at grades A - E.
The A - E pass rate was 94.2% - the second best on record!
309 results were at grades A and B - a rate of 48.4% (highest on record was 48.8% in 2000). This will put the school high in the National League tables as last year.
UCAS points per student = 23.9 again, this is the second best on record.
A record 28 students achieved the excellent standard of 3 or more passes at grade A.
Three gained fivegrade A passes. They are: Michael Dewar, Sam Ghosh and John Whittaker.
One candidate, Oliver Grady, was awarded one of the top five marks in English Language and Literature out of the 3632 candidates who sat the examination this year.
The results mean that 11 students have gained places at Oxford and Cambridge (six at Oxford and five at Cambridge), a new record (eight were awarded places in 2000).
Mr Martyn Morris, headmaster, commented that the school was very pleased with the results as the year group was not regarded as being outstandingly able and the numbers in the sixth form have continued to rise rapidly, with 25 more students taking A-levels this year compared with last. Almost all the students have gained the university places that they wanted, which is a tribute to their hard work and that of the staff at the school.