Primary Schools Maths Challenge 2002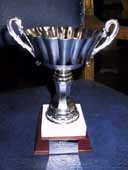 Teams from schools from all over the Valley came to BRGS to take part in the annual Maths Challenge. The theme for this year's challenge was Space. There were 10 tasks to be completed in the 3 hours available so teams were against each other and the clock.
Mrs. Kennedy (Head of Year 7 and Maths Challenge organiser) said that this year saw more teams complete the challenge within the time than ever before, so competition for the cup (right) was fierce.
By the end of the morning there was a winner though: Newchurch County Primary School who will take the cup back with them to Dark Lane.
If you want to try your hand at some of the tasks that had to be completed then click the link here: Try Completing some of the Challenges.
Congratulations to all those who took part in the competition.
The Tasks:
Odd Alien Out
Super Novae
Key Cutting
Power Packs
Planet Rocks
Solar Panels
Strange Stars
Cabin Capsules
Photographic Memory
Sweet Dream
Primary Schools Maths Challenge 2002