Revelation@BRGS: The Band With No Name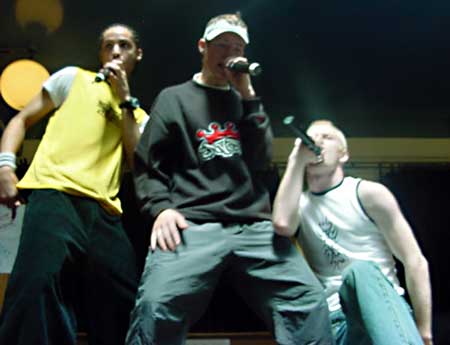 "Please can we go to assembly, sir - they're gorgeous!" cried the girls in the form. I was surprised and pleased that the Senior Management Team had developed so dramatically in the eyes of my tutees, then I remembered ...
For weeks pupils have been asking about the mysterious Revelation@BRGS signs that had appeared around the school. Finally all was revealed in assembly as The Band With No Name took to the stage to deliver their message of The Risen Lord Jesus in their own unique style.
"Do you like hymns?" the hall were asked... They were about to be treated to a rendition of Amazing Grace as they had never heard it before - and they loved it!
Click here to listen to Amazing Grace (mp3 format)
The band are playing a gig at BRGS on Friday 5th July with another group in a special performance that will only be repeated at one other school in the country. Tickets are on sale, but don't expect them to last for very long.
If you would like to learn more about the band and their message, then visit their website at www.thebandwithnoname.com
The Band With No Name