Lancashire Schools Basketball - under 16 final 2004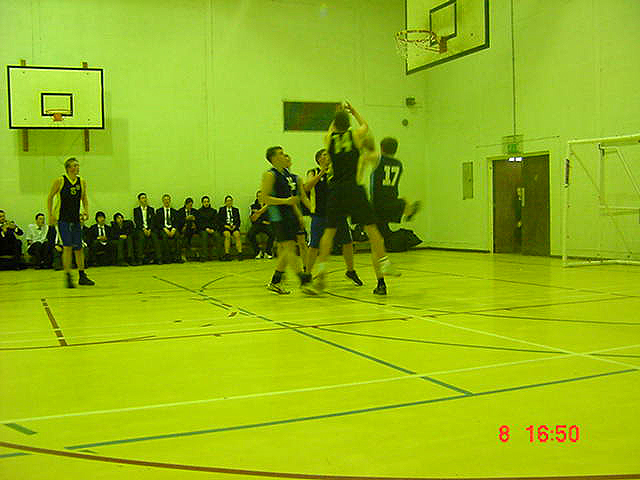 Bacup 60 : Mansfield 51
Lancashire Champions at the 3rd time of asking
Having played in 2 previous finals, losing them both, this was to be the 3rd attempt by this Bacup team to become the Lancashire Champions.
The only other times that the two schools involved in this year's final have met before was in last year's Lancashire Cup. Both schools won their respective home games, so not much clue as to who would start as the favourites at the neutral venue in Haslingden.
When the game began, Bacup were the much stronger team. The starting 5 of Kenny Eaton, Duncan Harris, Jacob Bullen, Alex Blow and Phil Howe all scored points as they raced away to score a total of 25 points by the end of the first quarter. In the break between quarters, comments were made that this could be a bit of one-sided final with Bacup reaching a hundred points or more.
At the other end of the court, Mansfield struggled to get into any sort of rhythm because the Bacup defence smothered their offensive threat and out rebounded their opponents, giving them almost no opportunities to score. Mansfield finished the first quarter with only four baskets.
Bacup deservedly led by 17 points, 25 points to 8.
Game over after only a few minutes? Not quite.
The second quarter saw a reversal of fortunes for both teams. Mansfield warmed up to the task and suddenly clicked into gear scoring 5 quick baskets without reply. Suddenly it was a close game. Bacup, as a team, struggled to score, but Kenny with a 3 pointer and Alex with one basket and a couple of free throws just about kept Bacup in front. Passing errors led to turnovers of possession meaning that the limited scoring opportunities were wasted.
At half time Bacup still led, but by the much reduced margin of only 6 points.
In the third quarter Mansfield continued to score, but Bacup had regained their composure and started to put up a much better show, passing the ball a lot better. Kenny and Alex both scored 3 baskets each as the teams now matched each other basket for basket; the Bacup lead remained 6 points.
With a minute to go at the end of the period, Jacob Bullen scored 3 quick baskets to extend the lead to 12 points.
The final period of the game saw a repeat of the second quarter. Mansfield were not going to give in easily and they stepped up the pace offensively, scoring three quick baskets. The lead was back down to 6. Defensively, they put more pressure on which led to some more wayward Bacup passing, again limiting the offensive threat as the ball was given away time and time again. But with a couple of baskets from Phil, one from Kenny and a free throw from Shane Dixon, Bacup held the gap at 6 points. With time running out, Kenny's 3 point shot right on the buzzer gave Bacup a 9 point win.
Kenny finished with 20 points, Jacob 10 and Alex 18.
The full team is Chris Greenwood, Aiden Smyth, Stefan Harris, Brendan Darcy, Matthew Goggins, Shane Dixon, Alex Blow, Kenny Eaton, Duncan Harris, Jacob Bullen & Phil Howe.
Lancashire Schools Basketball - under 16 final