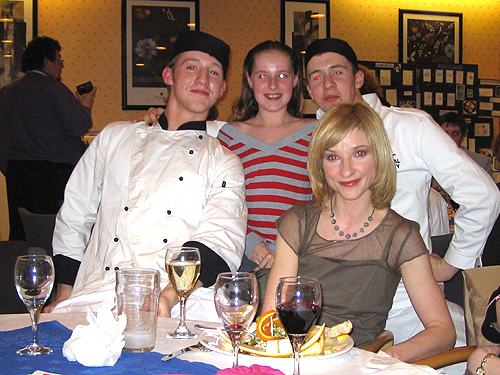 This is a competition run by East Lancashire Business Partnership and based at Nelson & Colne College. Heavily sponsored by the Navy, RAF and Army. A great collection of remarkable prizes up for grabs and an excellent reputation within the whole of the North West.
All Year 10 food technology students entered, and Lewis & Pete excelled and got to the finals in our first year of entering - a great achievement to be down to the last 10 out of a starting figure of 1000 entrants.
The challenge was to cook a 3 course meal for a celebrity for under £10.00 a head. They did this brilliantly for Jane Horrocks who attended the final in person in early March - the only school to get their celebrity to attend. An excellent night and although Pete and Lewis did not walk away with a host of prizes they were runners up in a number of categories.They were then chosen, out of all 10, at the end to represent the scheme on a travelling event to advertise. They were the real characters of the entire contest, everyone loved them for their sense of humour and genuine spark.
No one will have walked away that night without recalling Lewis & Pete. Well done lads, you did me, yourselves, your parents and the school proud. My heroes!
Congratulations to all my year 10 for joining in and working hard - all will receive in assembly soon their certificates, Crest Awards, and badges. Well done everyone.
Jill Hughes.
Young Chef Competition