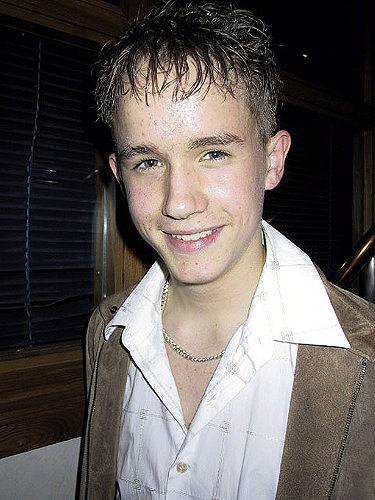 Tom Hyatt – The Winner!!!!
(Frank Sinatra Mack The Knife)
It was nine months in the making and an awful lot of hard work by Mr. David Heywood, music teacher at All Saints Language College, and it culminated at King George's Hall, Blackburn on Thursday 18th March.
With over 300 auditions, 50 performances in the school heats and 10 finalists the show put Rossendale schools at the forefront of inter-school relations in Lancashire. It was a superb collaborative effort involving All Saints, Haslingden High, Whitworth High, Alder Grange and, of course, BRGS.
With vocal coaching by Sonia of Creative Industries and a three track demo tape recording, the competition offered one talented individual the chance to take their skills further – but who would it be? The competition was fierce and the singers all put on great performances.
BRGS' first singer was Daniel Wilkie who produced an outstanding performance of Ronan Keating's Tomorrow Never Comes which brought the place to a screaming frenzy with the adulation of his fans. Without doubt it was the performance to beat.
However, despite some energetic performances from other entries such as All Saints' You Can't Hurry Love by the supremes (performed by Lindsay Dunn, Hannah Roupee, Lorna Watson and Sarah Whittle) nothing even came near the energy and fun that went into the performance given by Tom Hyatt as Frank Sinatra.
Already the image of Tom in that hat with the cheeky 'brat pack' pose has become embedded in the school's consciousness. The dancers that performed with him (Emily Grimshaw, Charlotte Annice and Clarissa Taylor) really finished the performance off with a routine that was utterly professional, full of energy and danced out with unfailing verve and enthusiasm. Tom gave a completely assured delivery of the number, really working his audience and performing with a confidence that was lacking in some of the other performers.
Of course, the support that was given by BRGS pupils exceeded all expectation. Giving positive cheers to all performances and backing our singers with banners, posters and every decibel they could muster in support, they really helped to make the evening go well and are to be congratulated on their behaviour.
It was a truly deserved win, and a night to remember for all those involved. The production was of a standard to match any West End performance and the work of VSL Event Hire and the technical wizardry of the All Saints media department could not be faulted.
WELL DONE, TOM HYATT!!!
Stars On The Rise Final