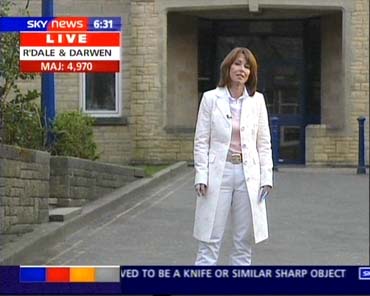 22 April 2005
On Thursday 21st April 2005, Sky News came all the way to Rossendale to interview BRGS sixth-form students and staff about their feelings on the forthcoming General Election and current political issues!
This was for two reasons: within the Rossendale and Darwen constituency, there is only a marginal difference between Labour and Conservative votes, and the BRGS sixth form is the largest sixth form in the area!
Watch the video clip of the Sky News report (Windows Media File): whole video (24.2MB)
Divided into 3 sections for slower connection speeds:
Section 3 (Mr Morris's interview)
Many thanks to Sky News for giving us permission to show the video footage on our website!