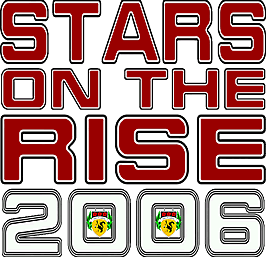 March 22nd 2006 was the date of the BRGS heat held at All Saints School.
Sophie Royle took the most votes from the audience and judges on the night. Her performance of Christina Aguilera's "Fighter" was judged the best of the evening.
Ellie Edworthy took a deserved second place with a beautiful rendition of "Somewhere over the rainbow". Originally made famous by Judy Garland, but more recently covered by Eva Cassidy.
Stars On The Rise 2006
photographs used by kind permission:
David Heywood and Geoff Senior, (c)Stars on the Rise 2006
Stars On The Rise 2006 - Backstage
The running order for the BRGS heat was as follows :

Song
Performer
1.
Suddenly I See
Ellie Carrick
2.
Left Outside Alone
Kay Gilibrand
3.
Moulin Rouge

Molly Robbins
Edith Carly
Hannah Dawson
Chloe Nugent

4.
What If
Sarah Davison
5.
The Tide Is High
Jodie Pallagras
Nicola O'Brien
Hannah Turner
6.
Memory
Hannah Potts
7.
Let Me Entertain You
Scott Bellas
8.
I Know Him So Well
Holly Goldsworthy
Stephanie Walker
9.
Loose My Breath
Heather Grant
Lindsay Thornton
Rebecca Howard
10.
Over The Rainbow
Ellie Edworthy
11.
Bad Day
Charlie Hoyland
12.
Fighter
Sophie Royle