BRGS Young Writers Poetry Published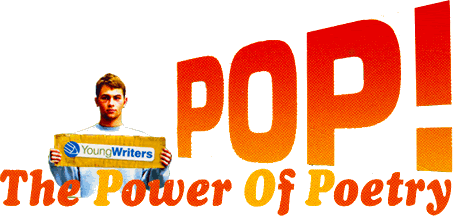 In April of this year, ten young writers had their poems published in an anthology of poetry.
Titled "POP! Expressions From The UK" the pupils' work was published as a result of being entered into a competition for 11 to 18 year olds.
The pupils regularly attend the Ink-Spots writers' workshop run by Miss Yau.
To read the published work click on the individual titles below
Pop! Expressions From The UK
ISBN: 1-84602-398-X
PUBLISHER: Young Writers
PUB. DATE: 30 Apr 2006
The book can be ordered from Amazon.co.uk
---
Untitled
There was a monster in my fridge, it's really big and fat
I asked my mum about it, she said it's just the cat,
But I'm not really sure,
I've seen it there before.
There was a monster, my food was no more.
There's a monster in my toilet, it's really big and scary,
I went up to talk to it and realised it was furry.
I thought it was cute, I thought it looked sweet,
But all of a sudden it snapped at my feet.
I went to my mum and told her what I'd seen,
She said it was just a fish that was being very mean.
There's a monster in my wardrobe, it's really fat and small,
At night it curls up very tight against my wardrobe wall.
I asked my mum about it and this is what she said,
'It's probably just the rabbit, dear, please go back to bed.'
But it's eyes are red, they glow in the dark
And it's voice is as rough as a wild dog's bark.
But then I realised that I didn't have a cat
That was really, really fat
And I didn't have a fish that was scary
And really, really furry
Or a rabbit that was fat and small
And sleeps against my wardrobe wall
Until the day after
Which was my birthday full of laughter.
Kelly Connor 8B
---
To Be A Sailor
Having to get up early at the crack of dawn,
The feeling of nausea emptying your stomach,
The vicious winds bitterly nipping and scratching at your face,
Oh, to be a sailor - I'm glad I'm not.
The sea air bringing with it the fate of thirst,
Making you aware that there is no healthy liquid within one hundred miles,
The harsh feeling of not being home,
Oh, to be a sailor - I'm glad I'm not.
But to travel to tropical islands,
To taste exotic food like never before,
The colours and beliefs of different cultures,
Oh, to be a sailor -
I wish I was!
Lydia Bruton-Jones 7R
---
A Mystery
A gust of wind
A silent glow
A pair of eyes
That seemed to grow.
A mysterious howl
A running nose
A pair of teeth
Ears that rose.
A layer of leaves
A squeak of fear
A rustle on the floor
Something was near.
Another step closer
A leap over a log
And I reached out
To find a harmless dog.
Emily Peters and Bethany Greenhalgh 7W
---
Sea Journey
An empty shell, the hermit finds,
Inhabits it and comes the tide
With sticks and stones he travels by sea.
A small fish swims with gaping eyes,
Floats to him, to hermit's surprise
Travels by sea with him.
A baby turtle, sad and lonely
With just one wish only
To have some friends like hermit and fish.
So they travel at a steady pace
Till they find another place.
A white sand beach with palm trees
And there they stay with one another
Happy on their island home.
Richard Barnes 7N
---
The Ballad Of Percy Moore
Every afternoon at four,
A little knock would come at the door,
A man would step on the kitchen floor,
Mum's knees would knock for Percy Moore.
For two hours he would stop and talk,
When time was up he would go and walk,
Have a large drink in the city of York,
Until tea was ready with a knife and fork.
This would happen every single day,
It was everything Mum could ever pray,
She was so happy that he could stay,
'Good for you' was all I could say.
That was until one fatal night,
When Percy decided to pick a fight,
He beat Mum into a dreadful sight,
She tried to stop him with all her might.
He carried on without a fail,
Ignoring Mum's half-hearted wail,
She ended up all ghostly pale,
She became too weak, too helpless and frail.
He was in that mood - he could kill,
I always knew he was mentally ill,
But Mum had feelings for him still,
I said, 'How early do you want a will?'
She understood me loud and clear,
And now we've lived in the country a year,
No more punches and no more fear,
And no more men who drink so much beer!
Sarah Stopforth 9B
---
Winter Night
Harsh winds blow,
Falling new snow,
Hiding old, worn tracks,
Grey skies turn an inky black.
Silver moonlight spied through bare branches,
Image cold and crisp entrances,
Still and silent, the frost encroaches,
Sparkling, glistening, one of nature's broaches.
Courtney Ives 7N
---
What Happened In The Morning
It was in the morning
Without warning,
I was walking up the stairs
And saw so many scares.
I couldn't tell if it was real,
It was eating it's first meal.
It almost made me cry,
I thought I was going to die.
All day I thought of it
I had to sleep with the light alit.
I couldn't get it out of my head,
I saw my mum just as she got out of bed.
Emma Wilson 8B
---
How Can That Be My Family
How can that be my mummy? How can that be my dad?
My dad was such a handsome good-looking lad,
My mum was so organised and so very neat.
How can they be my parents when they're runnung round school fetes?
How can that be my grandad? How can that be my nan?
My grandad's acting loopy, like the greatest rocking fan,
My nan's acting girly, just like all my friends.
How can they be my grandparents when they're driving me round the bend?
How can that be my family?
They're weird, can't you see?
How can that be my family
When they're less mature than me?
Dawn Henry 8N