National Music Week October 2006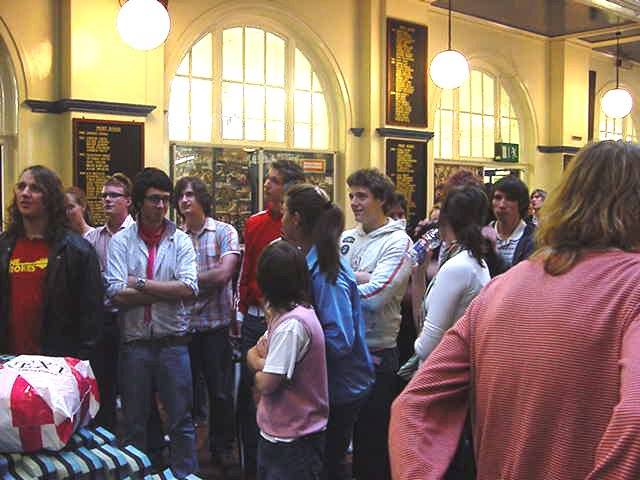 The musical activities got off to a flying start on 19th October this year with the 6th Form Music Concert. The audience were treated to a varied range of repertoire covering just about every style of music from folk to jazz, pop to classical and songs from musicals.
The concert was a resounding success and all of the performers delivered accomplished renditions of their chosen pieces. Details of the programme are listed below.
The 6th Form Music Concert was the culmination of events to mark National Music Week; a week in which students got the chance to show off their musical talent. There was an assembly performance from the cast of 'Little Shop of Horrors', who performed two songs from the forthcoming school production. Mr Morris also performed in assembly, displaying his accomplished guitar skills to an audience of impressed Year 7-11s!
For four days, there were music events at lunchtime in the Main Hall. On Monday the Year 13 band Hello Mayfair entertained the assembled crowd with a lively set and gained quite a few new fans! On Tuesday the A-Level Music students performed a range of pieces in preparation for their music concert. It was the turn of Tom Hyatt and the Firebrats on Thursday who performed three songs and were followed by the Wind Band –where the audience got the chance to see the instruments up close!
On Friday lunchtime there was a karaoke competition where an audience of some 300 students heard a range of songs sung by students and teachers. All of the singers did their songs justice, but the prize for the best performance went to Rob Whitworth for his rendition of 'When You Say Nothing At All'.
All in all, it was an exciting and varied week of music and displayed the abundance of talent at B.R.G.S.
The next music concert is the Christmas Concert on Thursday 14th December, but before that there is the school production of 'Little Shop of Horrors', running from 29th November-1st December. Judging by the standard of the performances in National Music Week, we're in for a treat – get your tickets before they sell out.
Hope to see you at a music event soon!
National Music Week October 2006
Sixth Form Concert Programme – Thursday 19th October 2006
Village Place
Alan Vizzutti
Josh Brown: Trumpet
Concerto in A Minor, Allegro
Vivaldi
Rebecca Willis: Violin
Sonata No. 4: Movt. I
James Hook
Kathryn Hargreaves: Flute
James Mitchell: Piano
Portsmouth
Trad. Arr. Oldfield
Emily Burke: Clarinet
Caroline Willcock: Flute
Everything I Do I Do It For You
Bryan Adams
Stephanie Kershaw: Flute
I'll Be There for You: Theme from Friends
Michael Skloff
Natalie Walker: Clarinet
Andante
Mozart
Jessica Holt: Piano
Crazy Hepcats
Chris Gumbley
Elizabeth Leonard: Saxophone
To Zanark and Path of Repentance
Nobuo Vematsu
Andrew Green: Piano
Two Folk Pieces
Nicola Costello:Violin
Michael Giverin: Mandolin
Andante
Busser
Rosanna Duckworth: Trumpet
Fantasia in G Minor
Telemann
Laura Royle: Piano
Wiederkehr
Hartmann
Jonathan Parton: Euphonium
James Mitchell: Piano
*** Interval ***
Second Half
Josh Brown: Guitar/Vocals
Ben Langridge: Guitar/Vocals
Ed Sargeant: Bass Guitar
Phil Hodkinson: Drums
When Mandolins Dream
Chris Thile
Michael Giverin: Mandolin
My Heart Will Go On
James Horner
Thomas Savage: Piano
Sound of Silence
Simon / Garfunkel
Joe Hodgeson: Voice
Ben Langridge: Voice / Guitar
Vincent Black Lightening
Richard Thompson
Ben Langridge: Voice / Guitar
One For My Baby
Harold Arlen
Scott Bellas: Voice
All I Ask of You
Andrew Lloyd-Webber
Claudia Yelland: Voice
Scott Bellas: Voice
Richard Sagar: Piano
Tom Hyatt and the Firebrats
Tom Hyatt: Guitar / Vocals
Dean Leyland: Bass Guitar
Luke Bramwell: Keyboards
Jon Waller: Drums