Christmas Assembly & Staff Nativity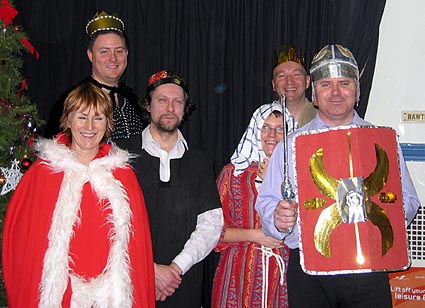 20 December 2006
Pictured above are (L-R): Mrs. Kennedy (Head of Year 7), Mr. Haycocks (Assistant Head), Mr. Ventress (English), Mrs. Sawle (Maths), Mr. Morris (Headmaster), Mr. Grehan (Head of Year 8)
An annual highlight in the last assembly of the year is the staff nativity play written by Lynda Taylor, Deputy Head. The theme this year was the 'fourth wise man'.
Prior to the nativity play, students gave readings and there were various musical items including sixth form students, Claudia Yelland singing 'In the Bleak Midwinter' accompanied by Richard Sagar on the piano, and the Senior Choir singing 'Hallelujah' by Leonard Cohen.
Marc Morris encouraged students to use Christmas as a time to reflect on their achievements over the previous year and to consider their goals for the future; a time to consider those less fortunate than themselves, and a time to enjoy with family and friends.