Great Expectations School Production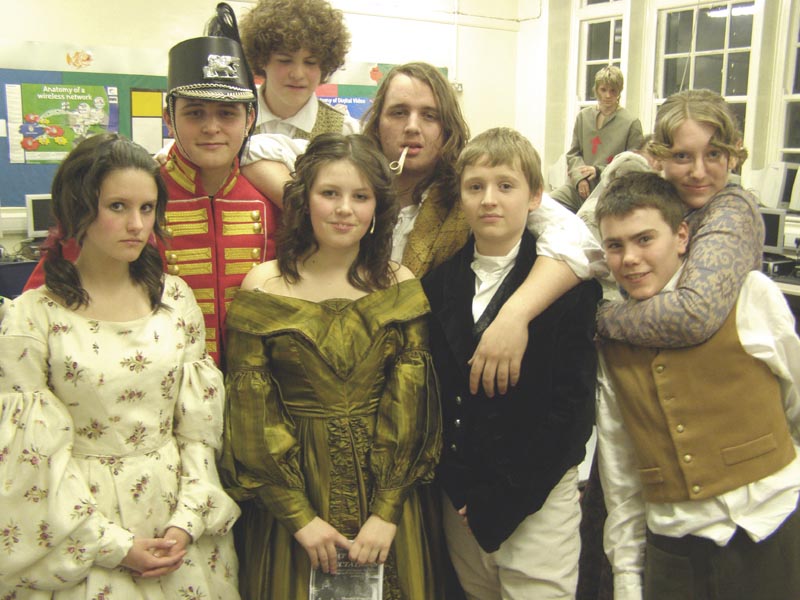 POSTER!
In an overgrown churchyard, a grizzled convict springs upon an orphan boy named Pip. The convict terrifies Pip and threatens to kill him unless Pip helps further his escape. Later, Pip finds himself in the ruined garden where he meets the embittered and crazy Miss Havisham and her foster child Estella, with whom he immediately falls in love.
After a secret benefactor gives him a fortune, Pip moves to London, where he cultivates great expectations for a life which would allow him to discard his impoverished beginnings and socialise with the idle upper class. As Pip struggles to become a gentleman and is tortured endlessly by the beautiful Estella, he slowly learns the truth about himself and his illusions.
Rossendale Free Press feature
CAST & ACKNOWLEDGEMENTS
THE CAST
Pip (as an adult)……………………………………Keegan Curran
Pip (as a child)……………………………………....Alex Marlow
Estella (as an adult)……………………………Jenny Cheesborough
Estella (as a child)…………………………………Catriona Watson
Joe…………………………………………………Wesley Pauline
Mrs Joe……………………………………………Danielle Cowles
Biddy………………………………………………Becky Burns
Miss Havisham……………………………………Helen Codd
Mr Jaggers…………………………………………Matthew Hathaway
Wemmick……………………………………………Daniel Marshall
Herbert Pocket………………………………………Simon Kroll
Abel Magwitch………………………………………Ben Ventress
Compeyson…………………………………………Marc Morris
Orlick………………………………………………Scott Bellas
Uncle Pumblechook/ Bentley Drummle……………Luke Bramwell
Mr Wopsle…………………………………………Trevor Ratcliffe
Mrs Camilla/ Belinda Pocket………………………Robyn Shepherd
Mrs Hubble/ Sarah Pocket…………………………Christina McMahon
The Pale Young Gentleman…………………………Jacob Stear
Squint-Eyed Convict/ Matthew Pocket………………Daniel Gray
Cousin Raymond/ Startop/ Aged Parent/ Mike/ Coachman/ Second Convict/ Porter/ Condemned Colonel/ Custom-House Officer/ Debt Collector…………………………………………… Ben Langridge
Mr Hubble/ Client/ Guard…………………………….Richard Cowley
Sergeant/ Judge………………………………………Thomas Sech
Flopson/ Molly………………………………………Hannah Potts
Georgiana Pocket……………………………………Melissa Hall
Jewish Supplicant/ Alick Pocket……………………Toby Craddock
Amelia………………………………………………Anna Shahid
Amelia's Associate/ Jane Pocket……………………Dawn Henry
ACKNOWLEDGEMENTS
Director: Ben Ventress
Assistant Director: Stormme Moorcroft
Stage Manager: Paul Reeves
Stage Hands: Mark Spencer/ Susan Kennedy
Curtain Operation: Christian Slinger/ Scott Bellas
Producer: Ben Ventress
Set Design: Ben Ventress/ Keegan Curran
Lighting Design and Operation: Darren Vass/ Ben Ventress/ Steven Partington/ Scott Bellas
Photographic Projections: Ben Ventress (images of Restoration House, Rochester, used by kind permission of its present joint owner, Mr Robert Tucker)
Drop Curtain (design and installation): Gareth Jackson
Drop Curtain (operation): Emily Barry/ Sameera Ahmed/ Amy Bemment
Sound Design/ Preparation (voiceover and music): Clive Davenport/ Ben Ventress/ Keegan Curran
Sound Cue Operators: Jacob Capelli/ Catherine Coleman
Microphones and Sound Management: Clive Davenport/ Laura-Beth Thompson
Costume Hire: Royal Exchange Theatre Costume Hire, Manchester/ Northern Costume Hire, Barnoldswick
Costume Selection/ Wardrobe Management : Ben Ventress/ Heather Edwards/
Susan Kennedy
Hair/ Make-up (design and application): Ollivia Hayes/ Helen Marston/ Robyn Shepherd
Original Props Construction; Anvil/ Boat: Ronnie Turner/ Simon Howarth/ Peter Scholes
Door/ Wedding Cake/ Tombstones/ Death Masks: Diane Bamford/ Rachel Duffy
Additional props supplied by: Grand Theatre, Lancaster/ Royal Exchange Theatre, Manchester/ BRGS/ "Memories" Antiques, Ramsbottom/ "Somewhere in Time" Antiques, Stubbins/ Gaynor Ashworth/ Jane Chapman/ Sandra Connor/ Heather Edwards/ Tom Gray/ Suzanne Rhodes/ Lynda Taylor/ Ben Ventress
Props Collection: Ben Ventress
Props Transportation: Frank Doolin/ Peter Scholes/ Susan Kennedy
Smoke Machine supplied by: Aviva Music Stores Publicity;
Ticket Design/ Production: Steve Haycocks
Poster Design: Ben Langridge/ Luke Bramwell
Ticket Sales: Michelle Owen
Local Press Liaison: Emma Gauntlett
Programme (content and production): Ben Ventress/ Steve Haycocks
Front of house (programme sales/ Additional ticket sales/ raffle ticket sales/ ushering): Kevin Grehan/ Michelle Owen/ Steve Haycocks
Production Budget: Tracey Hartley
Interval Refreshments: Jill Hughes/ Pam Sawle/ Sarah Hartley
Original two-part script, adapted from the novel "Great Expectations" by Charles Dickens, written and edited in 57 scenes by Ben Ventress (with additional assistance and editing from various members of the cast).
Programme: Synopsis of the story, Information on Dickens, Notes on Production...
Review of play, by Stacey Bartlett
More on Great Expectations...
Mini plot of Great Expectations
Great Expectations School Production 2007