Les Miserables comes to Rossendale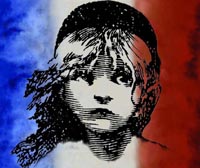 2 December 2007
Pupils and staff at Bacup and Rawtenstall Grammar School are working hard as they put the finishing touches to their November production of Les Miserables (Student Edition), Boublil and Schonberg's adaptation of Victor Hugo's outstanding novel.
"I had to sit down very quickly when I found out we had decided to stage Les Miserables" said Hannah Strickland, one of the production team. "It's such a big musical, far more ambitious than anything we'd ever done before".
Auditions began last June, and all concerns were dispelled immediately. Jo Matthews, head of Music, said "Some of the auditions were so powerful and the pupils sang with such passion; even then we were moved to tears at the beauty of the performances".
Directing the show is a fairly new member of staff at the Grammar school- Martin Neve, who comes with a strong theatrical pedigree. Prior to teaching, Martin spent a number of years performing in the West End theatres of London, and he comes to the show with a very clear directorial vision. "I learned very early on that the best performances come when you inhabit the character you are playing. I'm pushing our students, just as I was pushed in the West End, to 'live' the part. Our students are amazing – they respond so quickly and follow my direction so well."
"We are in an unusual situation at BRGS", said Susan Kennedy, also on the production team. "We don't have any specific performance area – our school hall has 10 classrooms off it, and it is used daily for assemblies and for pupils to congregate during breaks. The head has been great in allowing us to transform it for the show – we're importing tiered seating and draping the entire hall to turn it into a theatre. It will cause a disruption to normal school life, but I'm sure staff and pupils will put up with it for the sake of the show."
Rehearsals have been taking place until 6 pm each evening after school, with a number of weekend rehearsals slotted in over the next few weeks. Steve Mercer, a music teacher at BRGS says, "I think my fingers know which piano keys to hit even before I read the music. School days seem to be very long these days – but the enthusiasm of our students keeps us all going."
Les Miserables runs for four nights at BRGS, opening on Wednesday 28th November until Saturday, 1st December. Showtime is 7.30pm.
Tickets cost £8 for adults, £6 for concessions and go on sale on November 1st. Tickets may be obtained from Michelle Owen at the BRGS Box Office, Glen Road, Waterfoot.
Les Miserables - rehearsal photographs
Happiness for the cast of Les Miserables
Last week the barricades went up on the streets of Paris for four nights – not French farmers protesting against changes to EU agricultural subsidies, but by students of Bacup and Rawtenstall Grammar School in the cast of Les Miserables. For four nights audiences laughed and wept as they journeyed through the highs and lows of Victor Hugo's epic novel.
Former acting professional and drama teacher at BRGS, Mr Neve, who directed the play, said: "Les Miserables is a tremendous challenge for any performer or director, but I knew that the talent and maturity of the cast would make it possible." The cast were supported by a gifted backstage team and wonderful musicianship under the direction of Mrs Matthews and Mr Mercer, music teachers.
The huge cast was made up of students from throughout the 11 to 19 school and they managed the feat that is so hard for any cast – they allowed the audience to completely immerse themselves in the narrative by being so utterly focused on the performance of the character they were playing, no matter how minor.
In a play that is so well-known and loved there is always the danger that a school production becomes a poor imitation of the professional production. Not so. The directorial eye of director, Mr Neve, brought something entirely new to the production. Everything from the use of colour (the symbolism of the French Flag and the black and red of ages past and the blood of the new revolution) to the management of space and props was truly professional and allowed the audience total immersion in the performance.
In a production with so many strong performances it is difficult to pick out individuals. However, Scott Bellas, playing Valjean delivered a performance with a maturity and understanding of the emotions he was portraying that was enthralling to experience. Coupled with the vocal dexterity of his incredible voice it was a remarkable performance.
When it comes to vocal dexterity though, Hannah Potts, in the role of Fantine, could be believed to be the finished product – it is almost impossible to believe that in year 10 anyone could be capable of bringing the pain, anguish and despair to the role that she did. It was during her performance of I Dreamed a Dream that this reviewer shed his first tears.
If you know Les Miserables you will know that this is not a simple tale with good guys and bad guys, but that the relationships between the characters are very complex. The tension that exists for the audience in their feelings for Cosette and Eponine as the two women competing for the love of Marius were played out brilliantly by Claudie Yelland and Nicola Bracewell. Claudia's perfect soprano voice helped her to deliver a faultless vocal performance. However, it's Eponine whose loyalty and devotion in the pain of unrequited love leaves. As Nicola Bracewell sang A Little Fall of Rain if the audience had managed to hold back their tears, it was now that there could be no more holding back as she died in the arms of Marius.
Marius was played by Ben Langridge in a sensitive and understated manner: wonderfully naïve in his interaction with Eponine, yet hopelessly infatuated with Cosette. Equally skilled performance came from Jed Hull who revealed a fantastic tenor voice in a dual role as both bishop and the leader of the revolution. Both actors delivered a performance that was given depth through the maturity of their interpretations of the roles.
It's not all sadness though. Joe Hodgson and Maggie Frazer as M. and Mme. Thenardier the innkeepers proved to be real scene stealers as they leapt and cavorted about the stage grabbing money, possessions and laughs on the way. Other actors had to be hated though – Wes Pauline's portrayal of Javert was remarkable and in a difficult task succeeded in making the audience genuinely detest his character.
For one audience member, this was at least the 22nd time that she had seen Les Miserables and wiping the tears from her eye at the end of the performance simply said "I want to come again tomorrow." All good things come to an end, and great things seem to end even more quickly. What is true, is that the memory of this production of Les Mis will last for a long time to come in the memories of all who saw it, and forever in the memories of those who were a part of it.
Congratulations.
Photographs from this year's stunning performance of "Les Miserables"