World Challenge Expedition – Bolivia 2008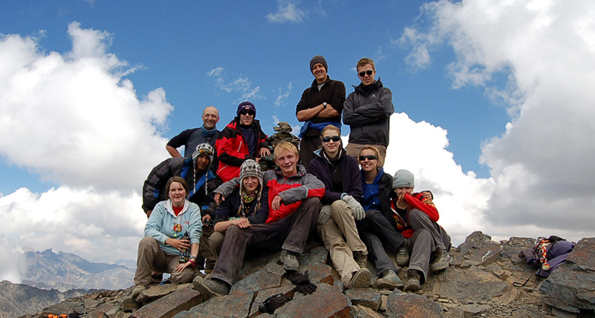 2 September 2008
A group of 11 sixth form students recently returned from a month long expedition to Bolivia. The expedition followed an 18 month period of preparation with the World Challenge organisation and involved an acclimatisation trek, a week in the pampas on the edge of the Amazon jungle, a week working at an orphanage for street children in La Paz, a week long trek to the summit of Picos Austria (5300m) in the Cordillera Real and a brief period of rest and relaxation at Lake Titicaca.
The students were responsible for all aspects of day to day leadership and management of the group during their time in Bolivia with pairs of students taking responsibility for transport, accommodation, accounts, food and overall leadership.
Trekking and backpacking in Bolivia certainly brings a challenge and all of us were tested by a combination of factors: learning to live at an altitude of 4000m+; coping with the bustle and chaos of La Paz; the overnight -12 temperatures whilst camping at 4600m; fishing for piranhas and then swimming in the same river with the protection of pink dolphins; close contact with alligators, caymen, monkeys and snakes; and the challenge of building a road leading to the orphanage during our week long project phase.
Photographs have been organised in groups:
1. The Acclimatisation trek – The Choro Trail
2. Rurrenabaque – Pampas and Jungle phase
3. Allalay – The project phase working at an orphanage for street children
4. The main trek – Picos Austria in the Cordillera Real
5. Rest and Relaxation at Lake Titicaca and Isla Del Sol
6. La Paz - General photos in and around La Paz
7. In Transit
There is no doubt that Bolivia has left its mark on all of us and that the expedition has been a fantastic experience. Everyone has learned a lot about themselves and about the challenges of travel. All have returned wiser and better prepared to face the challenge of higher education – all can be proud of what they have achieved.