Saxophone Day February 2009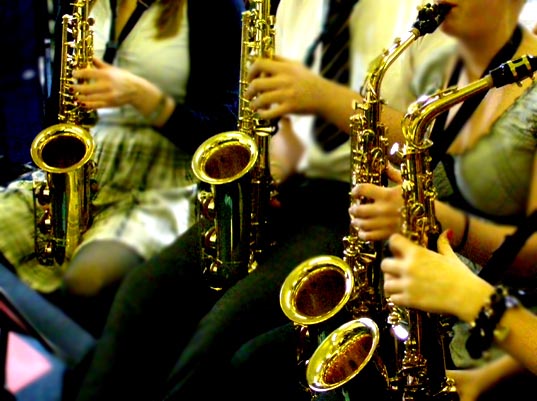 15 February 2009
In February we were delighted to welcome into school this lively, talented and accomplished ensemble, otherwise known as the Sax Collective. Ryan Searle, a peripatetic music teacher here at BRGS, performs with this accomplished saxophone quartet.
Our students thoroughly enjoyed working with them throughout the day as the music was made fun and accessible to all, including over 20 saxophone players, the samba band and also our jazz musicians.
The event day reached a crescendo with an evening concert, encompassing all the elements that the students had enjoyed throughout the day. A highlight for all was to hear a piece arranged by talented Year 9 musician Chalcedony Williams, played by the Sax Collective and conducted by Chalcedony herself.
This popular event offered our students a wonderful opportunity to perform with accomplished and entertaining musicians and Mr Davenport from the music department commented "good fun was had by all and it was an inspiring day for all the students". To hear a audio clips of the pieces played by on the day, please follow the links below.
Listen to:
"How Great" aranged by Year 9 student Chalcedony Williams
Jazz band