Duke Of Edinburgh's Gold Award May 2009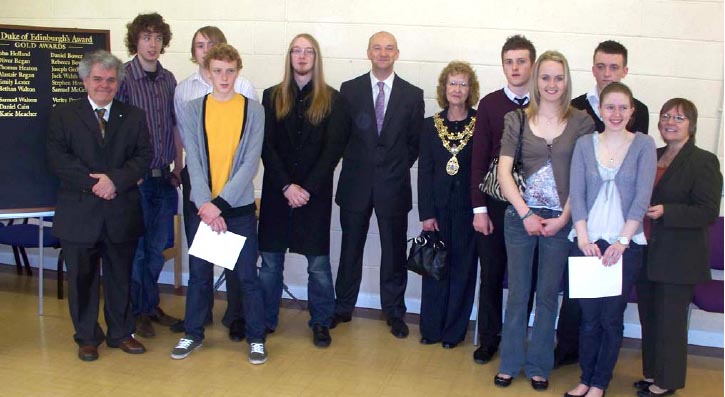 15 May 2009
pictured in the photograph are (from left to right): Award Coordinator Tom Gray, Tom Heaton, Joe Geddes, Sam Wardle (Silver), Sam Walton, Headmaster Marc Morris, the Mayor of Rossendale Councillor Janice Thorne, Sam Tosh, Katie Meacher, Daniel Cain, Natalie Baines (Silver), and Lili Rishton from the Young Peoples Service.
DUKE OF EDINBURGH'S GOLD AWARD PRESENTATIONS
At a special ceremony held at the Young Peoples Service Centre in Rawtenstall a group
of ex students, along with students who could not be present at last years Speech Night received their Gold and Silver Awards from the Mayor of Rossendale Councillor Janice Thorne.
The Mayor and parents were able to view an exhibition of the various expedition presentations ranging from Dartmoor to the Cairngorms and as far afield as Bavaria.
Also present were the Headmaster Mr Marc Morris and Lili Rishton, the Operations Manager for the Young Peoples Service who are the licence holders for the Open Award
in Rossendale.