Zoe Byrne and Melissa Burnham win the UDO World Streetdance Championships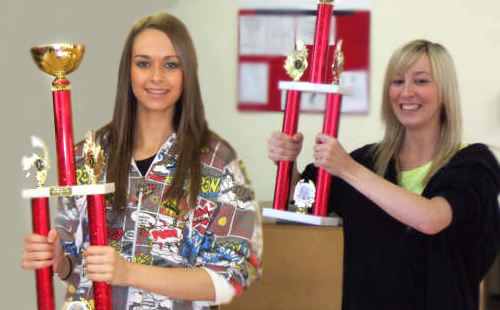 1 July 2009
Congratulations to Zoe and Melissa whose streetdancing talents came to light in the Charities Committee fashion show this year. Recently they helped to open the final of Rossendale's Got Talent.
They write about their recent competitions and appearances below…
We have been members of the streetdance group Ruthless for the last two years which is based at The Academy Dance School in Castleton. In August 2008 we won the UDO World Streetdance Championships in the Under 18s category. We went on to win the Midland Streetdance Championships in November and have recently moved up into the Over 18s category which is the highest section. In February 2009 we competed in this section for the first time at the British Streetdance Championships and gained 5th place.
Since then Ruthless have performed live on television channels such as Channel M as well as going live on Radio Lancs to be interviewed. We have also recently appeared in a music video for a new and upcoming artist that is being released this summer. Our team have performed at various events such as the Christmas Lights switch on 2008 and other charity events as well as visiting local schools to promote dance and exercise.
This year Ruthless will be entering a number of Crew Battles under the name Supremacy as well as attending the Welsh Championships and Southern Championships. Having already qualified for the next World Streetdance Championships we hope to win the Over 18s title in August 2009.