Law Students Take Crown Court By Storm 2009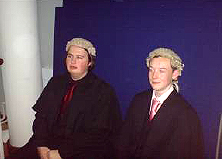 A group of 15 law students from Year 12 and 13 took part in the Regional Heats of the National Bar Mock Trial Competition on Saturday 21st November 2009 at Manchester Crown Court, Minshull Street, Manchester.
Our barristers wore the traditional wigs and gowns and used their excellent advocacy skills to prosecute and defend two cases before a real judge.
The first case of R v Myers involved a charge of Possessing Drugs with Intent to Supply and in both trials the barristers (Alex Jones, Lewis Brady) and witnesses (Alex Eaves and Matthew Archibold) managed to secure the preferred verdict from the Jury.
The second case R v Kerrie involved a Robbery on a bus and the barristers (Alison Stonebanks and Grace Rutherford) displayed excellent skills in cross examining the witnesses (Laura- Beth Thompson and Georgina O' Brien).
Oliver Sikora played the role of Court Clerk and Usher for the cases which involved him assisting the judge with witnesses and jurors.
Rosie O'Gorman, Joanna Haworth, Faiza Saeed, Jason Ngan, Hannah Jones and Ayisha Ali played an integral part in each trial as Jurors.
A great time was had by all and we look forward to taking part in the competition next year.