The Late Night Betrayal Café - March 2010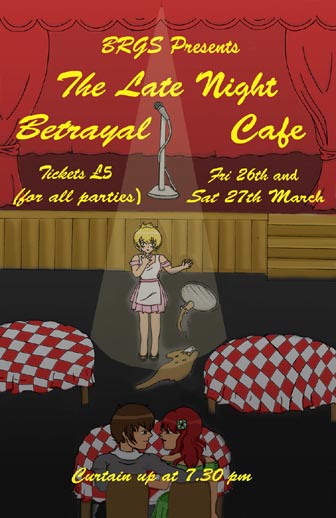 A completely exclusive collaboration by the BRGS Performing Arts Team in the shape of a dramatic production featuring music, song and dance, delicately woven together by a thought-provoking theme of 'betrayal'.
Head of Drama, Mr Neve, worked with the BRGS Drama students to create a piece of political theatre that could be used as the seed of a production that would sprout into a concept musical, creating space for all the creative arts to make a statement.
The show is in two scrumptious segments: the first is set in the Betrayal Café where a group of life's lonely misfits seek solace in a disjointed community, only to discover they are all connected by some perverse irony; the second, the internet café, sees a disgruntled youth embark on a roller-coaster ride of the superhighways through the rocky terrain of internet dating and inveterate desire.
Acting Head of Music, Mr Mercer, was been given carte blanche to find music that evokes and respects the theme of the piece and Mr Neve has rewritten some of the song lyrics to ensure that these gel aptly with the potent drama.
Miss Todd, our new dance teacher, also added appropriate dance numbers to ensure there was variety and physical dynamism.
The Late Night Betrayal Café opened at 7.30pm on Friday 26th March and ran for two nights.
The Late Night Betrayal Café Photographs from the show
The Late Night Betrayal Café - Backstage cameo photographs