Goodbye to Long-Serving Members of Staff July 2010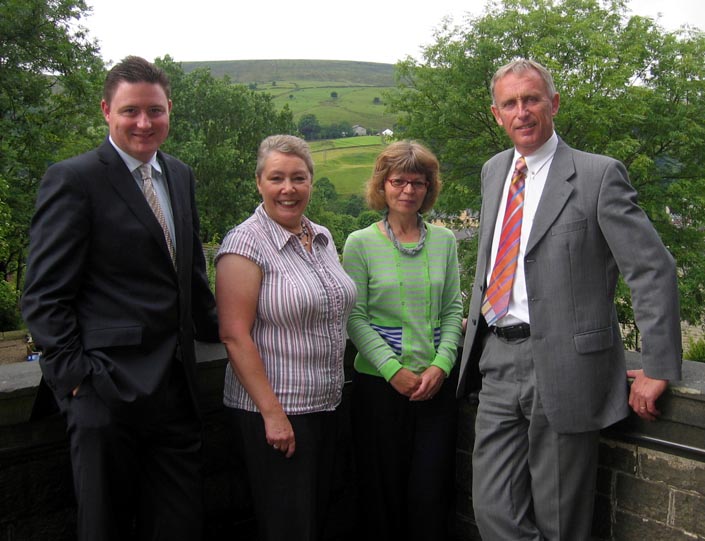 20 July 2010
We are sorry to see the following members of staff leave us at the end of the summer term–
Mrs CE Mansfield – who has been with us for an amazing 30 years! Mrs Mansfield has taught art to hundreds of our young people, giving them not only a recreational activity but also the skills to access higher education and begin their own creative career. For many years Mrs Mansfield was also in charge of careers in school, and we thank her also for her invaluable help with Year 9 Camp – what are we going to do without her? We send Mrs Mansfield our best wishes for her very early retirement!
Mrs C Hudson – started her life at BRGS as a part-time teacher of history an impressive 20 years ago! She quickly moved up to full-time as her knowledge and expertise were recognised as being second to none! Mrs Hudson has also been subject leader for A' level General Studies and has been the driving-force behind the history models' exhibition. She has been a strong supporter of music at BRGS and a valuable help in many of our cultural trips in England and abroad. We're sure she will keep in touch, and we wish her a long and happy retirement.
Dr CE Edwards - one of our deputy heads, and not strictly retiring as yet, but taking a step back from his work on the Senior Management team in his last 18 months of teaching. Dr Edwards' career has been one of high expertise in his subject area and unflagging devotion to the school and his students. A stalwart of the geography department, Dr Edwards has taken field trips to places as far apart as Iceland and Italy, and has led skiing expeditions to France, Italy and Canada. His work in school as examinations' officer and leading data analysis has impacted on thousands of our young people. We thank him for his 18 years of leadership – but we don't say Goodbye as yet!
Mr SC Haycocks – Mr Haycocks has risen through the ranks since his arrival 13 years ago as an NQT in the English department. He very quickly made his mark, becoming our first website manager, then Head of the English faculty and finally assistant head. Whatever he has turned his hand to he has made a success: Critical Thinking, Film Club, Debating Society, timetabling, the staff nativity - and we will miss him sorely. We wish him luck in his promotion as he goes to Skipton Girls' HS as deputy head.
We also said ''Goodbye" to the following members of staff:
Ms GL Spokes - Ms Spokes quickly established herself at BRGS three years ago as not only an excellent languages' teacher and efficient assistant head, but as the one who, as specialist school's manager, led us so successfully into a change of designation, from a technology to a maths and computing college and then to embrace a second specialism, that of training school. We are grateful for her skill and proficiency and wish her well in her promotion to deputy head at Collegiate School, Blackpool, and in her forthcoming marriage.
Ms CC Newton - Ms Newton arrived at BRGS in 2007 to teach sociology and PSHE, quickly establishing herself not only as an excellent subject teacher but one who would cheerfully help out wherever help was needed, whether on Duke of Edinburgh or backstage during school productions or the Futures event. She is the school's authority on Gifted & Talented – and will be remembered by many grateful sixth-formers as their assistant head of year. We wish her well in her promotion to head of department at St Christopher's HS, and hope she will stay in touch!
Mrs JB Waddell – Mrs Waddell has worked in a part-time capacity in the physics department (on and off!) since 2004, coming to our rescue more than once when we needed a highly qualified scientist. She has now decidedto retire fully from teaching in order to spend more time in her position as senior examiner for one of the examboards. We wish her well; we will all (especially the Knitting Group!) miss her cheery smile and capacity for hardwork!
Miss PA Walsh - has been with us for only a year, but in that time she has brought great expertise to the maths department, and was responsible for setting up A2 Accounting in the sixth-form. We thank her for her hard work and for being a lovely form-tutor and wish her well as she returns to her roots to teach in Ireland .
Going even further afield is cover supervisor Ms S McGroarty who, having ploughed the first furrow here as regards permanent cover supervision, now leaves these shores to start a new life in the United States.
We extend our thanks to these and to Mrs SM Smith and Mrs RS Khanom who have both done maternity cover this year, Mrs Smith in the PE department and Mrs Khanom in RS. They have been an absolute delight to work with – we have been lucky to have them as a part of our family at BRGS.
Also leaving at the end of term, Mrs V Olek and Mrs Heeks, who have been working in a temporary capacity in modern languages. We thank them also for their dedicated approach and for helping us out in ensuring continuity for our young people.