Former Teacher Miss Macleroy Dies March 2011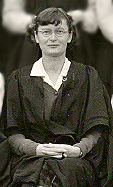 Miss Jean E Macleroy affectionately known as 'Ma Mac' sadly died on Saturday 19th March 2011.
Miss Macleroy was a French teacher at BRGS from 1945 – 1978 and Senior Mistress from 1965-1978.
Her funeral took place on Friday 1st April 2011 at Burnley Crematorium followed by a celebratory tea at Rosehill House Hotel, Burnley.
Miss Jean E. Macleroy 1918-2011
And no one addressed her as Jean!
Miss Macleroy was a Liverpudlian of Scottish descent. Whilst an undergraduate student she was in France at the time of the German invasion. She was fortunate to reach these shores before the famous evacuation from Dunkirk in 1940. During the war she taught in boys' grammar schools taking the place of men who were serving in the forces. However, when the war ended she finally obtained a permanent post at BRGS in 1947 and stayed for thirty-one years, until her retirement in 1978.
She was appointed senior mistress – a description that would now be seen as having unfortunate connotations – in 1964. In reality she was deputy head with special responsibility for the welfare of girls. Many will recall her on stage at morning assembly – serving this role on some 4800 occasions dressed in tartan skirt and knitted jumper. If a child fainted she would jump from the stage to provide assistance – femininity was never a strong point. She shared the teaching of French to A level, concentrating on language rather than literature. She always stressed that she was not enamoured of the French people. She was the possessor of the most wonderful prejudices ameliorated by a delightful sense of humour.
When the PTA was formed in 1970 she immediately became the most ardent supporter. She was a lover of cricket and regularly attended matches at Bacup in the great days when West Indian test players retired to the Lancashire League. She was also a dog lover and for many years – against all the health and safety regulations which would now apply – kept a large Airedale in her study. Amazingly, it never barked during morning assembly.
After retirement she retained a major interest in the school, supporting the decade long campaigns to retain its grammar school status.
Throughout her 33 years of retirement she remained totally dedicated to the school, retaining her caustic sense of humour and commitment to 'Coronation Street' and the 'Daily Express'. Of all the many causes she supported BRGS was always top of the list – for 64 years of her life.
Philip Clark, Former BRGS Headmaster.
April, 2011.