School Production December 2011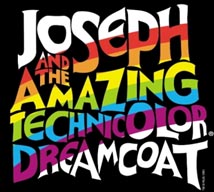 Wednesday 7th to Friday 9th December 7.30pm - tickets £5
"Joseph and the Amazing Technicolor Dreamcoat."© The Really Useful Group Limited
Mr Neve, Head of Drama, once again agreed to produce and direct the show and this year we had three musical directors: Mr Mercer (Head of Music), Miss Price and Mrs Matthews.
Head of Dance, Miss Todd agreed to furnish the show with some additional physical flair and Mrs Kennedy had the unenviable task of doing every job under-the-sun that nobody else is particularly keen to get involved with.
We genuinely hoped this show was an extraordinary experience!
---
REVIEW OF "JOSEPH AND THE AMAZING TECHNICOLOR DREAMCOAT"
by Ruth Shepherd
A colourful array of joyous celebration.
I think that captures the mood and visual effects of the production of "Joseph and the Amazing Technicolor Dreamcoat".
The entrance by Isaac Cox was quite startling and set the tone (stage?) for the evening. (I was quite disappointed not to see more of Isaac and his musical talents). However, he was ably replaced by Ross Entwistle as a younger Joseph.
The Narrators (or should I say angels?) really stood out with their amazing voices and clear diction. It was a mammoth task that they took on being in virtually every scene, but their voices remained strong until the end.
Joseph's brothers – the wolves in sheep's clothing – proved that shepherds can also render a mean tune.
Potiphar and his wife gave us a great comedy routine, whilst Pharoah took us back to the '50s with a well executed Elvis impression with his Song of the King.
The four pretty dancers were well rehearsed and gave two strictly polished performances.
The obvious enjoyment had by everyone taking part was particularly shown by the Chorus who embraced each song with great enthusiasm and showed a high standard of singing.
The sound, lighting and music was up to its usual excellent standard and Mr Neve quite rightly dedicated this production to Mrs Kennedy as the costumes, handmade by her, were outstanding, especially the spectacular dreamcoats.
Mr Neve set out to bring some fun and light relief to our lives and he did just that and should be applauded for it.
School Production December 2011