Summer Music Festival 2012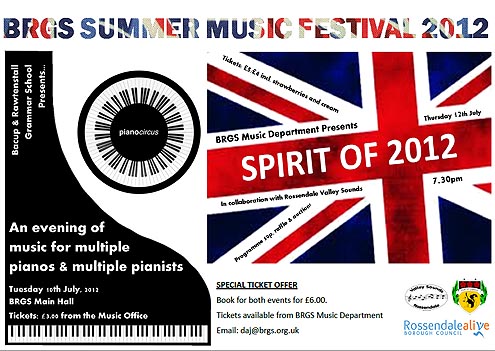 14 July 2012
Tuesday 10th – Thursday 12th July
BRGS Summer Music Festival, featuring Rossendale Valley Sounds
The Music department at BRGS are holding a Summer music festival in mid-July.
The exciting programme includes an evening of music for multiple pianos and multiple pianists on Tuesday 10th July and a joint concert with Rossendale Valley Sounds Concert Band featuring music based around the themes of the Olympics and the Diamond Jubilee on Thursday 12th July.
The music to be performed includes popular favourites such as Pomp and Circumstance, Jerusalem, Rule Britannia and Crown Imperial alongside unfamiliar gems like Grieg's Wedding Day at Troldhaugen and an unusual piece for one piano, eighteen hands (played by nine pianists simultaneously) called The Noise of a Multitude.
Also in the repertoire will be music from previous Olympic games such as Barcelona, Olympic Fanfare and Theme by John Williams, and the ever popular Time to Say Goodbye.
Bring along your Union Flag for the 'Last Night of the Proms' finale!
Ticket for the events are available from the Music Department at BRGS and are priced :-
Piano Circus Concert – Tuesday 10th July - £3.00
Spirit of 2012 Concert – Thursday 12th July - £5.00/£4.00
(including Strawberries & Cream)
Both concerts double ticket - £6.00
Summer Music Festival_Combined Poster